Caesar - Romaine lettuce,cherry tomatoes,homemade parmesan & garlic croutons,Reggiano Parmesan and Jill's special caesar dressing.

Italian - Mixed greens,tomatoes,olives,red onions,carrots,cucumber,shaved parmesan,home made croutons, Red wine vinaigrette dressing.

Jill's - Arugula and spinach,sliced apples,dried cranberries,sweet toasted pecans,goat cheese-

Or Blue Cheese, Fresh lemon vinaigrette.

Chicken - Roasted chicken(sliced and cubed)Fresh Parsley,

celery,grapes,apples,pecans,green onions,red onion,dried cranberries,mayo & spices.
Potato - Red new potatoes,boiled eggs,celery,onion,mayo,vinegar,spices.

Pasta-Tiny Pasta,red onion,celery,green onion,olives,pickles

cherry tomato,carrots,parsley,spices,herbs,in a creamy special mayo.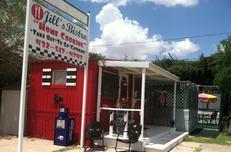 Cheddar-Cornbread 

Spicy Italian 

Seeded & Salted  
Fresh Baked Bread (All Flavors)

Focaccia

Tenderized/Marinated Chicken Breast

Buttermilk & Panko bread crumbs-eggs/cream/spices-Oven fried natural 

farm raised skinless chicken breast. Accomp.w/scratch cream gravy.

Chicken Vege Noodle
Chicken Tortilla
Chicken or Beef Chili

Minestrone

Oven Roasted Skinless Chicken Breast
Stuffed w/bacon,spinach,cheese.onion,garlic,bell pepper,panko- served w/ white wine cream sauce. 

Oven Roast Pork Tenderloin
Stuffed w/nuts, dried fruit,apples,pears,garlic,celery,bread crumbs,herbs,spices. Sliced and served w/Port reduction or Blue Cheese Cream Sauce. 

Appetizers

Stuffed Mushrooms

Sicilian Copanata

Salmon Mousse

Mini Sandwiches/Wraps

Cheese & Fruit plates


Quiche (All Flavors)Vegetarian



**We can make anything that you Want. 
Home made Meatballs. 8 -10 oz. beef and pork, spices, garlic, onion, parmesan, romano, milk, eggs, bread crumbs-rolled in a special crust & stuffed w/ mozzarella) Accomp.w/ Mafia Marinara sauce & pasta.


Jill's Famous Chicken Parmesan
Tenderized/marinated Skinless Chicken Breast Panko/egg/flour/cream dipped-Sautéed-Topped w/Marinara/Mozzarella /Parmesan and Baked.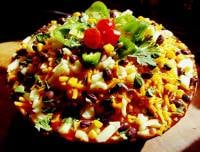 Baked Chicken Tortilla Casserole
Gluten Free-
Roasted Shredded Chicken breast/Onion,Garlic,Poblano Pepper,Corn,Black Beans,Cheese,Corn Tortillas Layered in a Spicy Jack Cheese Cream Sauce w/Cilantro.

Chicken Picatta
Tenderized Skinless Chicken Breast, sauteed in butter, white wine, olive oil, lemon, lemon zest,artichokes, capers-Served w/Linguine-Parmesan cheese.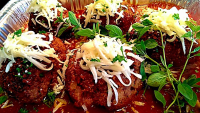 Tenderized Skinless Chicken Breast,marinated,sauteed w/light flour Mushrooms,Marsala,Butter-Served w/Linguini-Parmesan Cheese.

Lobster,Clams, Mussels, Scallops, Shrimp in Jill's Spicy Marinara sauce-White wine-Herbs-spices

w/Pasta-Reggiano Parmesan Garnish. Red Pepper Flakes on request.

Jill's Infamous New York Lasagna
4 Layers of Pasta-baked w/Sauteed Ground Beef,Italian sausage/Parmesan/Mozzarella/Ricotta/eggs-Home made Mafia Marinara Sauce.

Fresh Basil Garnish

Texas Pulled Pork Enchilada's
Slow Roasted Pork Shoulder-Corn,Black beans,Roasted Poblano peppers,Montaerrey Jacj Cheese,Jumbo Flour Tortilla's,Stuffed Baked w/ A Creamy White Cheese Sauce

and A Red Sauce. Monterrey Jack on top/Cilantro,Jalapeno and Queso Fresca Garnish

Fresh Salmon Medallions-Coated with a Delicious Crust made of Basil,Parmesan,

Pistachios,Garlic,Dijon Mustard,Panko,Olive oil,Lemon,spices.

Israeli Couscous or Orzo w/Garlic and Olive Oil-Fresh parsley.